Unlocked Graduates 2021 Eid Blog Post 
Unlocked Graduates 2021 Eid Blog Post 
#Across our network, we have a diverse set of participants, staff, and ambassadors, who observe and partake in several different public and religious holidays. We work with a wide range of prisoners, who also celebrate these holidays.
#As the Islamic holiday of Eid-al-Fitr approaches, we celebrate with Muslim members of our network, who will be partaking in Eid festivities!
Celebrating Eid in Prisons
Prisons are challenging environments, particularly for prisoners from minority backgrounds. An example of this is that Muslim prisoners can sometimes find it difficult to observe Ramadan and celebrate Eid due to a lack of understanding of the cultural and religious significance of Ramadan and Eid within the wider prison service.
Last year, Zeba, an Unlocked Ambassador from our 2018 Cohort, decided to organise a socially distanced Eid celebration for prisoners at her establishment and ensured Muslim prisoners were able to partake in a crucial time of the year for them, which they otherwise could have missed. This is just one of the many ways that Unlocked officers are making a difference within prisons. You can read more about Zeba's Eid celebrations here.
Did you know… 
Eid-al-Fitr literally means "Feast of Breaking the Fast.  
This festival marks the end of the month of Ramadan, a holy month for Muslims, in which Muslims fast for during the daylight hours of the month in addition to focusing on prayer and reciting the Qur'an, which is the central scripture of Islam.
Eid-al-Fitr begins when the New Moon is sighted. 
The Muslim world uses a lunar calendar to determine when a new month starts. As such, Eid will begin when the month of Ramadan ends, and when the month of Shawwal starts. Therefore, Eid is estimated to begin in the evening of Wednesday 12th May, but we will not know for sure until the New Moon is sighted!
Eid-al-Fitr can last for multiple daysl 
Eid celebrations can last up to three days. In countries with large Muslim populations, it is considered a national holiday, with official state celebrations.
We at Unlocked wish everyone who is celebrating, a lovely Eid. We hope that you have a great time with your friends, families, and loved ones – with some amazing food!
Eid Mubarak!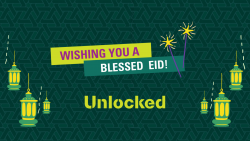 Authored by our Recruitment Officer – Michael Obasanya.