Diversity and inclusion

Back to top
#Unlocked is working to build a fairer prison system. A diverse and inclusive workforce is essential to doing this.
We celebrate the diversity of our participants and the rich experience their varied backgrounds bring – both to Unlocked as an organisation and their vital frontline work in prisons. In a role that is heavily focused on building and managing relationships with complex and often vulnerable individuals, as well as being a key part of the social and political landscape, it is vital that the prison workforce aims to be representative of the people they work with. This relates to all aspects of diversity from age to race and sexual orientation.
#The challenge
The disproportionate representation of certain groups  in the criminal justice system is a major issue – and a priority for Unlocked. People from Black, Asian and Minority Ethnic backgrounds are over-represented in the prison population (making up more than 25% of the adult male prison population and over 50% of young people) compared to just 14 percent in the general population.
The over-representation of people from the Gypsy, Roma and Traveller community is also significant. Around five percent of people in prison identify as Gypsy, Roma or Traveller, compared to an estimated 0.1 percent of the general population in England.
#Taking action
Against this backdrop of over-representation of minority groups among the prisoner population, it is particularly problematic that the prison officer workforce is largely white with just 10 percent of officers self-identifying as being from a Black, Asian or Minority Ethnic background.
This representation discrepancy contributes to a lack of trust in the system and is a factor that inhibits many prisoners from ethnic minorities from engaging with purposeful activity and programmes aimed at rehabilitation and desistance from crime.
Unlocked aims to reverse this by recruiting exceptional candidates from Black, Asian and Minority Ethnic backgrounds to the programme. The 2017 Lammy Review – into the treatment of, and outcomes for individuals from ethnic minorities in the criminal justice system – cited Unlocked as an example of best practice.
#How are we doing?
Across our first four cohorts, Unlocked participants are:
30 percent male and 70 percent female
80 percent white and 20 percent BAME
10 percent LBGT+ identifying
#Coaching
To achieve our ambitious goals for diversity in our recruitment , Unlocked offers free, independent coaching for applicants from ethnic minorities. This is delivered by a third-party expert consultant who helps applicants plan and navigate the application process. Once you start an application you will receive further information on this process and how you can access the materials.
#Graduates on the Unlocked programme have the opportunity to promote diversity, equality and inclusion within their prisons – with the full support of Unlocked behind them. Discover some of their stories below.
Katrice
2019 Cohort, HMP Aylesbury
Katrice is a prison officer at HMYOI Aylesbury and has just graduated from the 2018 Unlocked Graduates cohort.
After just 18 months she was employed as Aylesbury's equalities officer – ensuring the prison upholds its legal and moral responsibility to promote diversity and inclusion.
Katrice organised a series of events for Black History Month, which involved activities for the men in her care to engage in. Her activities resulted in an increased awareness for, and engagement with equality issues in the prison – among both residents and staff. Importantly, it was a way for the men to learn about and celebrate black history. You can read more about the activities here.
#Black Lives Matter in Prison
In an interview with Unlocked, Katrice discusses the impact of the unlawful killing of George Floyd and the Black Lives Matter movement within the custodial environment.
#To anyone thinking about applying, Katrice says:
"Definitely apply! It's been one of the best and most difficult opportunities I've embarked upon. It's not lost on me how much of a blessing it is to have a job in which I enjoy and am able to contribute to society…and to have a job as a bridge to something I am able to do in my later career."
Zeba
2018 Cohort, HMP Aylesbury
Zeba has just completed two years on the Unlocked Graduates programme at HMYOI Aylesbury. Aylesbury houses offenders between the ages of 18 to 21 with sentences four years or longer.
After a positive start in the establishment, Zeba moved to work in the segregation unit within a year of working in the prison. While this position is usually reserved for experienced officers, her obvious aptitude for the role shone through.
In 2020, Zeba organises celebrations for Eid in the prison. Not only had this never been done before, but she did it under lockdown and through COVID-19. Listen to her story to find out more.
And read Zeba's blog about the celebrations.
#Zeba's advice to prospective applicants?
James
2018 Cohort, HMP Wandsworth
Unlocked participant James is active in the LGBT+ community – and passionate about promoting LGBT+ inclusion at HMP Wandsworth.
"As a frontline prison officer, you can have an impact both a local level and a systemic level. In my prison, I'm a member of the LGBTQ community and I got involved with an initiative where members of the community – or allies – would wear these little rainbow ribbons around their epaulettes to show visibility and support for the community. And as well as that, with the help of Unlocked – and it was only possible because of Unlocked – I did a policy paper with some friends on the scheme about how to tackle transphobia and homophobia in the prison service. And that will get seen by the prisons minister and could affect real systemic change."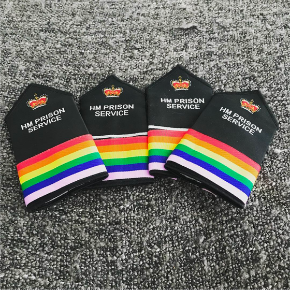 James is a part of an Unlocked LBGT+ network, which runs events and supports LGBT+ participants within the Unlocked programme.