Participant Blog: Mental Health Awareness Week at HMYOI Aylesbury
Participant Blog: Mental Health Awareness Week at HMYOI Aylesbury
#During the COVID-19 pandemic, visits and association have been cancelled so the residents are spending more hours locked in their cells each day. Staff are working extra hours, not seeing their friends and family. All this can have a negative impact on mental health. So, I was prompted to do something to mark the importance of looking after your mental health during Mental Health Awareness Week at HMYOI Aylesbury.
I applied for some funding from Unlocked to run a project for Mental Health Awareness Week and used this alongside some COVID-19 funds from the prison. I used this funding to provide treats and resources for both staff and residents.
We gave each resident a copy of Action for Happiness' Coping Calendar, which is focused on things you can do each day for 30 days to be kind to others or yourself. We also gave residents a guide to looking after your mental health in prison, which was written by other prisoners and gives tips on how to access support. Finally, to brighten their day, we gave each resident a swirly lollipop with positive quotes attached – which understandably went down very well with our lads!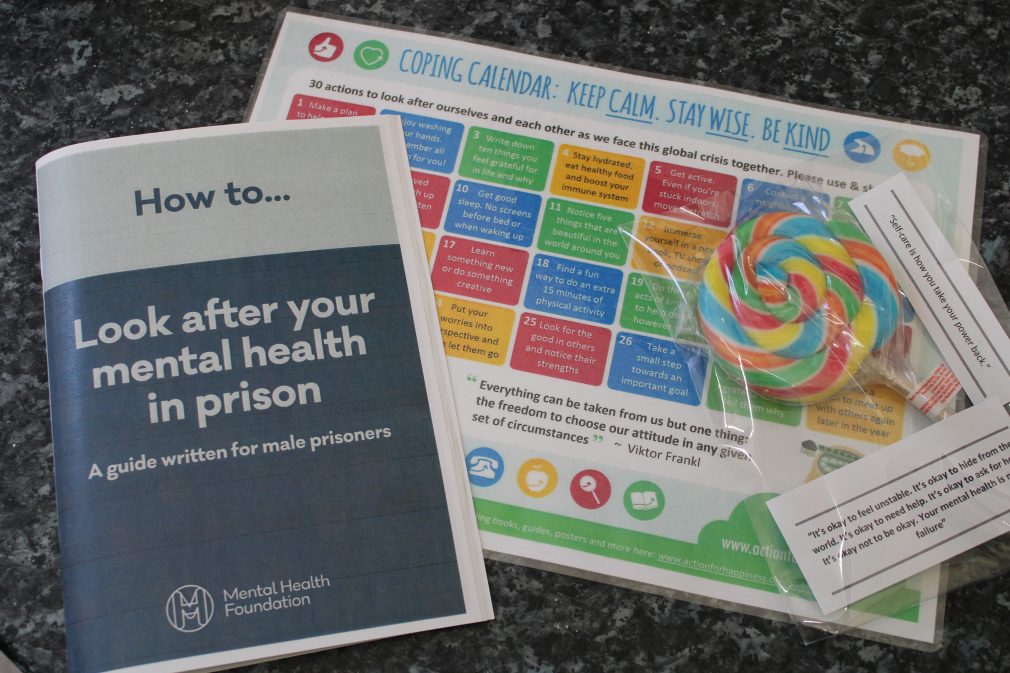 One resident said, 'I have a mental health condition which I am receiving treatment for but during the Coronavirus times when I can't go to therapy, it's nice to know we haven't been forgotten and that you guys care about our mental health. I'm serving a long sentence so I have my own struggles to deal with and I know that this isn't going to fix it but it definitely helps during those down days to put a smile on my face.'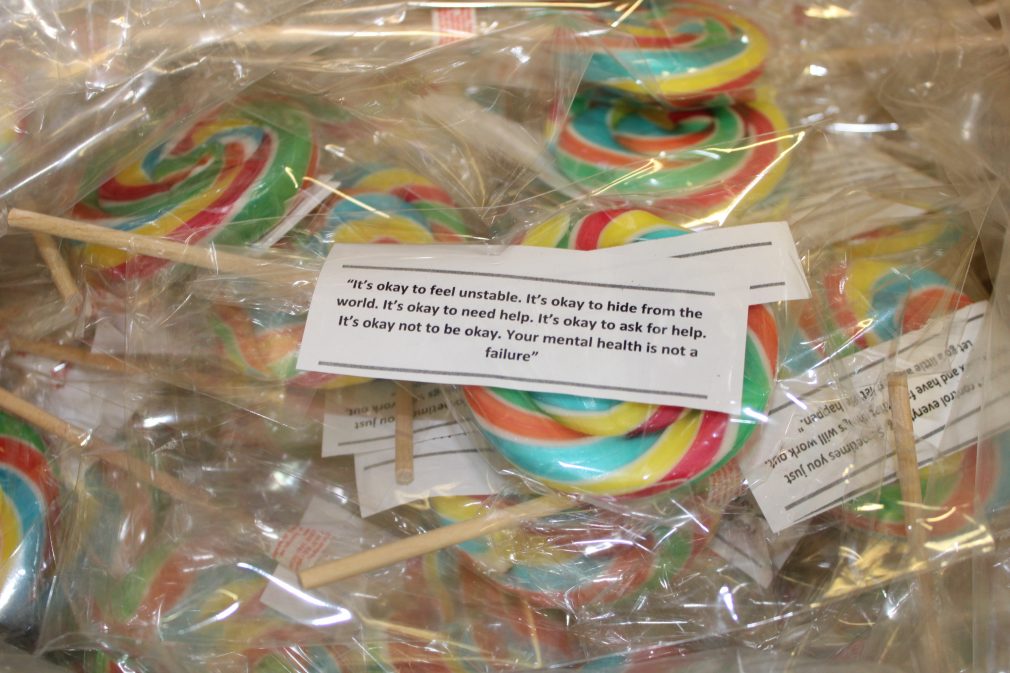 Next, (because residents and staff are not all that different in the sense that both love to receive free food!) we gave each department tea, coffee and biscuits and encouraged them to sit with each other and have a check-in on how each other were feeling at that moment. I also sent a global email each day giving different information on mental health and the different support avenues available to staff. We received great feedback on this. One staff member said, 'I wanted to say a massive thank you for the lovely treat I found when I came to our kitchen today. We have all had a break and a biscuit and a chat for mental health week up here.'
Finally, given that the theme for Mental Health Awareness Week this year was 'kindness', we decided to run a Random Acts of Kindness campaign. For this, treats were left all around the prison in both prisoner and staff areas with a note attached encouraging people to pass on an act of kindness when they found one. This was a great success and people really got on board and joined in! These were enjoyed by staff and residents alike:
'Just wanted to pass on thanks to you and your team for the random act of kindness I found today! It definitely brightened my day.'
'Just wanted to say thanks from the PE department for the random act of kindness that was left in our pigeon hole. On another note I am a little disappointed that I have been running round the field all week hoping to find some and haven't haha.'
It has been great to be able to bring some cheer and place a spotlight on the importance of mental health at all times but particularly during the COVID-19 pandemic. As one Unlocked participant put it, "it's so nice for you guys to be able to use the Unlocked funding to help provide some much needed support/morale boosts for staff as well as residents during this uncertain time.'
#Blog written by Emily, a 2018 Unlocked participant based at HMYOI Aylesbury.